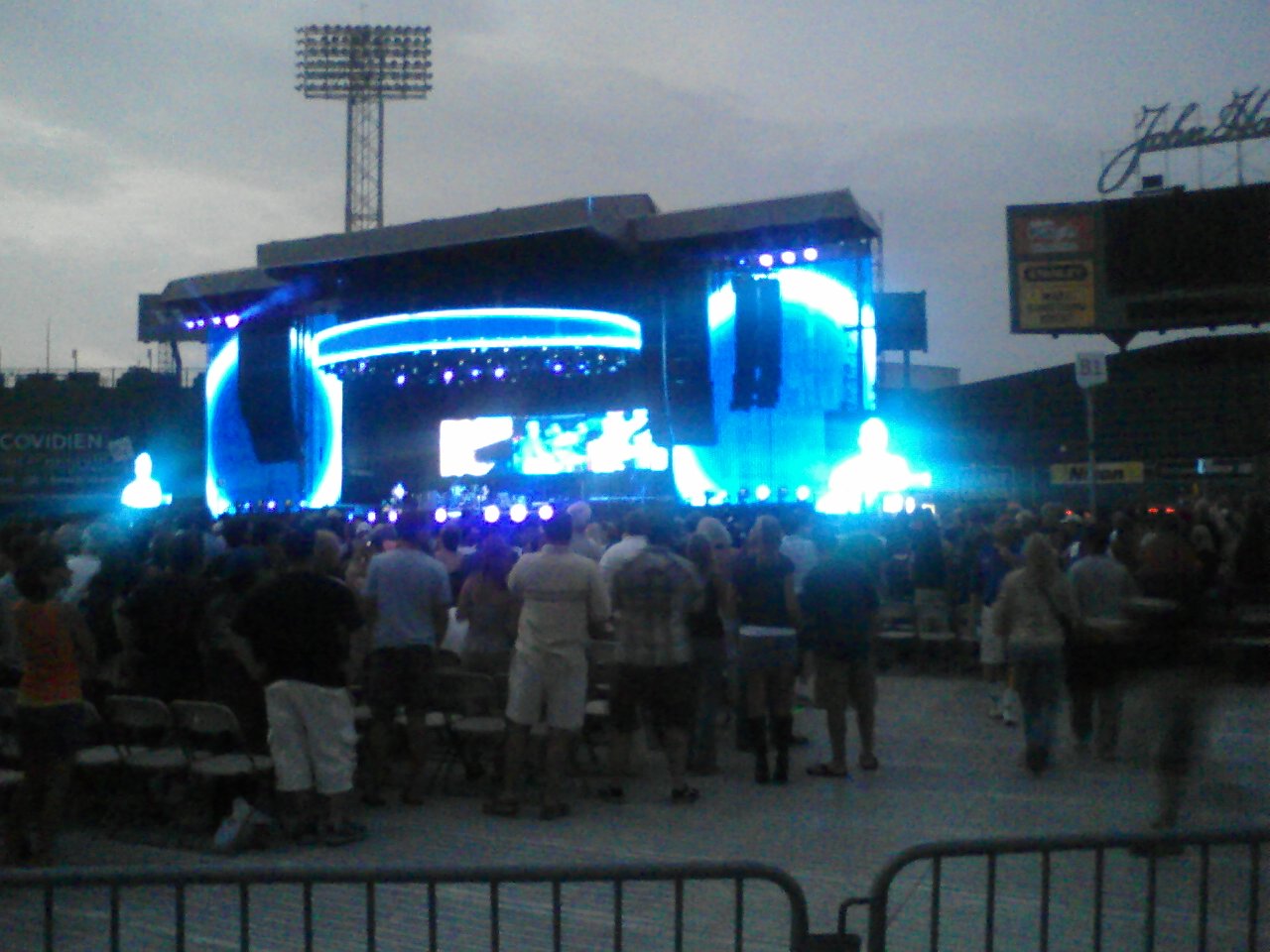 I will start this off with an admission, I'm not really a Police fan. A buddy asked a couple of weeks ago if I would be interested in going and my answer was, if you can't find anyone else to go, sure. I went in to this show, expecting very little. Heck, I even bought The Police
(a greatest hits compilation) the Sunday before the show (for my drive home from New York) just so I would know some material.
In the end, I realized I knew a lot more Police music than I thought I did. I think I knew about 14 of the 28 tracks on the 2 CD set, so I felt a little better after listening to it. Plus, I learned some music I didn't know, so I felt even more prepared to head to the show.
The day started off rather crappy. It was pouring pretty hard during most of the day, so I was not very hopeful to stay dry for the show. When I left to house to meet my friends, it was pouring as hard as I had seen it all day. While walking to the ferry, it slowed down a bit and by the time I got on the boat, it was just drizzling. When I disembarked, the rain had stopped and there was a big ball of fire in the sky. Things were looking better.
We got to Fenway and took a look at our seats. We were in the front row between Pesky's Pole and first base. We were basically a couple of feet away from the $250 seats, yet we had paid only $95 :) So, yes, awesome seats (thanks Brian!)
Fictionplane (Sting's son's band) opened the evening. They were ok. They won the most respect from me when they said something along the lines of, "We are like the 5th band to play Fenway Park and we totally don't deserve this". At least the were honest. They played a bunch of typical poppy rock songs. Nothing I am going to run out and buy, but I might see them over at The Paradise next time they come around for $10 :)
Around 8:20, with blue skies above, The Police hit the stage. They opened up with "Message In A Bottle". This surprised me. This is a huge hit and they are opening up with it. Well, I guess I kind of forgot, unlike a lot of old bands out on tour, The Police don't have a new CD to pimp, so it was greatest hits the whole night, so why not open up with one of the biggest?
For the next hour and 20 mins or so the band took everyone through a tour of some of their greatest hits, mostly songs that everyone could sing along with and just enjoy. They left the stage around 9:40 after an extended version of "Roxanne", to return just 2 minutes later with an encore of King of Pain, So Lonely, and Every Breathe You Take. They left the stage again and after a couple of mins came back out and finished the show off with a rockin version of Next To You.
As I said at the beginning, going in to this not being a big Police fan, I had very low expectations. Well, I was BLOWN AWAY. For a bunch of senior citizens (or at least soon to be) who haven't played together in almost 25 years, these guys sure put on quite a show. Most impressive of all to me was Stewart Copeland. I've heard great things about him as a drummer for a very long time, but seeing it live really reinforced that notion for me.
After the show, we just went home, as some of us had to get up at 5AM for Sunday morning maintenance windows (I swear, I love my job :) All in all, an awesome night and thankfully Mother Nature was in a good mood and kept the rain away while the band kicked everyone's ass.